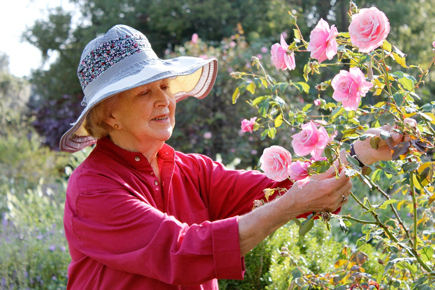 Ruth Knopf photo by her daughter Caroline
As usual James Delahanty president of the Ventura Rose Society uses his concise prose in their online newsletter to promote GROW.
Great Rosarians of the World-West will honor Ruth Knopf, Southern rose conservationist, at a two day seminar to be held at Huntington Gardens in San Marino over January 22 and 22rd, 2011.  For more information and tickets, please consult: http://greatrosarians.com:80/blog/2010/12/08/ordering-tickets-great-rosarians-of-the-world-11-west/. This annual program is in its 11th year of honoring outstanding contributors to the world of roses and is distinguished not only by the honorees but also those who attend and those who educate as part of the program.