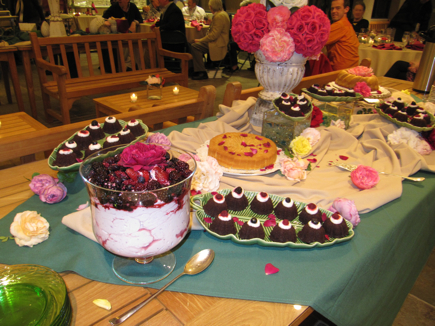 GROW 11 West Banquet Dessert Table
Long term Huntington Rose Garden volunteers, Judy Pollinsky and Myriam Hu each year have produced a display of rose themed desserts for the GROW West Rosarians Banquet.  This year is was held on Saturday, January 23 in Banta Hall of The Huntington Botanical Center.  Judy an Myriam make their own rose waters from fresh roses collected from The Huntington Rose Garden and produce a table fitting for the Queen of Flowers!  Judy experiment with 18th century cake and cookie receipts and somehow has managed to get just the right balance of rose essence into her productions.
For their dedication to the GROW program over the past years it was my pleasure to present Myriam and Judy the  Friend of the Rose Award. They have been tireless in backing and putting on their display for the enjoyment of GROW West participants and for this and their dedication to GROW please join me in acknowledging them as Friends of the Rose.