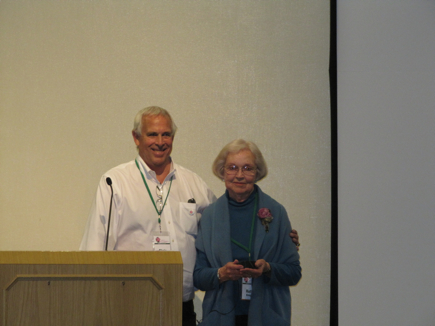 Ruth Knopf accepting the Great Rosarians of the World™ Award on January 23, 2011
From Sherri Berglund:
I just wanted to congratulate you on yet again putting on a wonderful GROTW event! Thank you so much! Ruth Knopf was charming and engaging and it was the first opportunity I've had to meet her. What a lady! The other speakers were inspiring and informative as well. I've heard Gregg speak several times and each time I learn something. I think this was his best presentation yet; the "call to action" for rose preservation. We hear it frequently but somehow he made it sound fresh and compelling. This January event is a welcome relief to our cold winters and the Huntington BG is lovely even so early in the season. The venue is excellent, the food yummy and best of all are the people I met are fascinating. Thank you for working so hard in making it such a pleasant event.