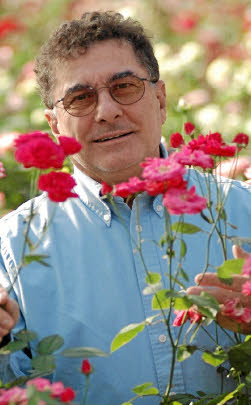 This year's honoree is Alain Meilland from the family that introduced one of the world's greatest roses, 'Peace'
Join rosarians from all over at The Huntington this coming January 21-22 to honor this Great Rosarian and his family's continued influence on modern roses. We are in for a treat sharing his experiences and knowledge on America's Favorite Flower, the rose.
The Great Rosarians of the World Annual Lecture Series is an ongoing program of The Huntington Rose Garden. It was founded in 2001 to honor the women and men who have made significant contributions to our love and knowledge of the rose. M. Meilland joins a distinguished list of honorees that include the likes of:  Peter Beales, Ralph Moore, Roger Phillips and Martyn Rix, Miriam Wilkins, Wilhelm Kordes, and David Austin.
The GROW program is focused on our love of roses and is designed for a broad of interests from the dedicated rosarian to the casual gardener who just wants to learn a bit more about one of our favorite flowers. There is plenty of time in the schedule to connect with others who share our love of the rose to learn and share. Please join us and honor this Great Rosarian!
Program Schedule
Saturday, January 21
1:00 to 3:00 Growing Old Garden Roses Registration in Botanical Center (meet in Rose Garden or Teaching Greenhouse in case of weather)
6:30 PM Dinner honoring Alain

Meilland

(Location

Banta

Hall, The Huntington Botanical Center)
Sunday, January 22
11:00 Registration in front of Friends' Hall
11:30 to 12:30 Panel Discussion on growing healthy roses
12:30 to 1:30 Box Lunch
2:00 Program — Honoree Alain

Meilland
Dinner $35.00 per person
Tickets for GROW 12  $50.00 for both Saturday workshop and Sunday Box Lunch and Program
Payment can be arranged by calling The Huntington at 626.405.3514 and pay with your credit card